Exit Survey
at Miyako Island
Feb. 2011
Arrival Survey
at the Pacific Northwest
July 2014
Mar. 2014
Aug. 2013
Mar. 2013
Aug. 2012
April 2012
Sep. 2011
Aug. 2010

Feb. 2011-1
Feb. 2011-3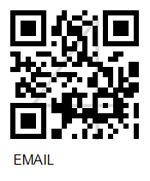 Email us through your smartphone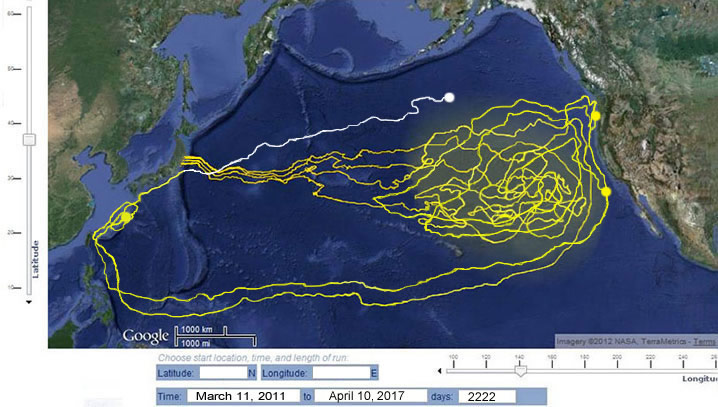 Simulation System: Courtisy of NOAA
| | |
| --- | --- |
| | What is Project "Saving Memories": |

The huge amounts of debris accumulated by the tsunami of March 11, 2011 in Japan is traveling east of the northern pacific at a faster speed than was initially estimated. According to the MOE (Ministry of Environment) of Japan、the estimated figure of tsunami related marine debris will be around 25 million tons.

Exhibit 1. is our own calculation, created with NOAA's OSCURS program, which highlights areas that show the current location of tsunami debris as of April 10, 2017, 2222 days after the tsunami occurred.

Debris will continue to wash ashore beaches during the course of the following two to three years.

As an organization periodically researching how marine debris from Asia arrive to the Pacific Northwest using our exit and arrival surveys, we are also observing possible arrivals of Tsunami debris to the beaches of the Pacific Northwest.

Since we have research and outreach functions both in Washington State and in Miyako Island, Okinawa, Japan, we are able to provide information regarding those arrival situations on our Japanese website for their reference. Effectively utilizing our platform functions and capabilities, we decided to serve families and individuals in Japan by helping them find pieces of memories that they have lost through the tragedy.

"Saving Memories" is a project with the aim to return any identified items to families if found in the North Pacific Ocean during research activities at beaches of the Pacific Northwest or the Hawaiian Islands.


| | |
| --- | --- |
| | We listed four (4) of the most highly identifiable items possibly to reach the US coast: |
1.
Soccer ball and volley ball
Size: 58~60cm ( 23~24 inches)
in circumference
Size: 64~66cm ( 25~26 inches)
in circumference
2.
Plastic pencil cases of students (Size: 20 to 22cm x 4 to 8cm)
3.
School shoes of kindergarten or elementary students (Size: 14cm to 25cm)
4.
Water Bottle (canteen) for school excursions (Size: 20 to 25cm x 6 to 8cm)
| | |
| --- | --- |
| | How the "Saving Memories" project works: |
1.
If any individuals/organizations have found relevant items at the Northern Pacific, please send an e-mail with a few images to admin@miyakojima-kids.net

The image should include the most identifiable parts, such as the name of the owner as shown shown above (in most cases, the name is handwritten with black permanent marker), logo, size, or any other distinguishable parts along with the time and place found.
2.
We will send the information you have provided us to newspapers and TV stations of the three prefectures that were heavily damaged by tsunami to reach the owner. We will also introduce information on our website.
3.
If we find the owner or owner's family who would like to recover the item, we will ask that you send the item to our office in Redmond, Washington.
4.
We will send the item to Japan with all the information, along with the finder's contact information in case the received family would like to write back.
NOTE:
Although we do not know the level of radioactive contamination on the tsunami debris, some may possibly be contaminated with radiation from the Fukushima nuclear power generator's meltdowns. Especially high volumes of radiation would come from strontium (Sr-90), which has a physical half-life of 29 years and a longer biological half-life of 50 years. Sr-90, as well as other radioactive elements, has been released into the North Pacific current system from Fukushima 2 and 3.
For proper handling of possible tsunami debris, please visit the following websites: